Identity Management – Cisco ISE
Integration for Cisco ISE
It is easy to setup Cisco ISE to use SureSMS gateway. You can find more information about Cisco ISE here.
Follow these steps:
1. Create a SureSMS account. If you have not already done this, here is where to do it.
2. Start your Cisco ISE and go to "Setup"
3. Go to the section "SMS Gateway Provider list" and choose "New SMS Gateway Provider"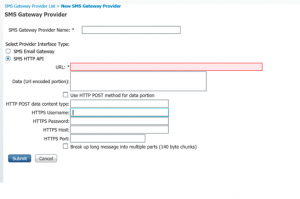 3A. Pick a name for the new gateway. I suggest you use… TADA: SureSMS
4. You are going to build an URL that corresponds to the URL that Cisco ISE wants. To do this, you need the username and password you got in the mail under 1)
5. The URL looks like this:
http://api.suresms.com/Script/SendSMS.aspx?login=[username]&password=[password]&api_id=1234&to=+45$mobilenumber$&text=$message$
6. In Data (URl encoded portion) you have to write $message$.
Push the submit button and you should be ready to go.